E4y.net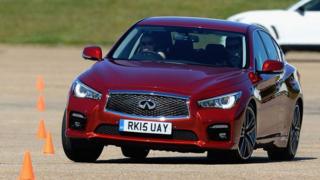 Driving examiners in England, Wales and Scotland are beginning a 48-hour strike the day a new driving test is launched.
The Public and Commercial Service (PCS) union has warned thousands of tests could be cancelled.
The union says the new test means examiners will have to work longer, harder and for no extra pay.
The chief executive of the Driver and Vehicle Standards Agency (DVSA), Gareth Llewellyn, said the union was "trying to undermine" the new test.
He said it showed a "shameful disregard for both road safety and learner drivers who have worked so hard".
The DVSA said the new test offered a more realistic assessment of driving skills.
What's new about the new test?
There are four main changes:
The independent driving part of the test will increase from 10 minutes to 20
During the independent driving part of the test, most candidates will be asked to follow directions from a sat nav
The reverse around a corner and turn-in-the-road (three-point turn) manoeuvres will no longer be tested. These will be replaced by either parallel parking at the side of the road, parking in a bay, or pulling up on the right-hand side of the road, reversing for two car lengths and rejoining the traffic
Candidates will have to answer two vehicle safety questions while driving
Flexible working
The PCS general secretary, Mark Serwotka, said his union had tried to negotiate: "No one takes strike action lightly and we acknowledge the disruption to the driving tests for learner drivers keen to pass their test."
But Lesley Young, the chief examiner of the DVSA, said there would be little disruption: "Most examiners are not in the union and those that are working today will take out a number of tests and we expect the disruption to be minimal."
PCS union members voted by 84% in favour of striking, on a 70% turnout.
The union said examiners, who are employed by the DVSA, were being told to work harder as the tests come into force.
It said the tests were being accompanied by a "flexible working" regime, which gives managers the ability to deploy driving test examiners anywhere they choose without notice.
The PCS says this could mean staff working six days a week, but only being paid for five.
The DVSA said this was "simply not true", adding that it had recruited more than 320 extra driving examiners in the past year.
The new test itself is also a bone of contention for the PCS.
It will add a test of sat nav use. The PCS questioned the safety of this, saying "incidents occurred on driving lessons which have been conducted to the new testing arrangements".
---
Were you due to have your test today or tomorrow? Are you learning to drive or are you a driving instructor? Tell us your story at haveyoursay@bbc.co.uk.
You can also contact us in the following ways:
E4y.net Info@e4y.net